Empas gets ready for the UK market with the UKCA-marking
Following Brexit, the British government is introducing its own variant of the European CE marking: the UKCA marking. Because every machine sold on the British market must have this new marking from 1 January 2025, we at Empas have made all our machines UKCA ready last year. The documentation of the machines has also been adjusted, so that we can continue to export to Great Britain.
About CE and UKCA
From horticultural machinery to fireworks and from medical devices to toys - many products sold within the European Economic Area (EEA) must have a CE mark. The manufacturer or importer thus indicates that the product meets EU requirements with regard to safety, health and the environment. It also makes it easier to compare products and promotes trade between countries.
After Brexit, the British government created its own marking: the UKCA (UK Conformity Assessed). At the moment, there are no differences between the CE and UKCA marking in terms of production requirements. However, manufacturers and importers must use both markings after 1 January 2025 if they want to be able to sell their products on both markets. That means many products need to be re-marked. However, both markings may be used side by side.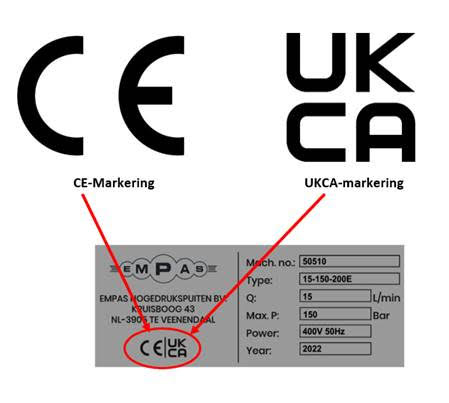 From identification plates to documentation
The arrival of the UKCA marking has meant that Empas machines had to be re-marked under the applicable guidelines. Although this will be mandatory only from 1 January 2025 forward, we have ensured that all our machines were ready in 2022. We have modified the identification plates on all our machines and provided them with both CE and UKCA markings. In addition, we have adapted the English user manuals and the accompanying UK-Declarations of Conformity to the new UKCA situation. This way we can continue to export to Great Britain.
Interested in Empas machinery?
Do you want to work with Empas products or do you want more information about our machines? Please contact us by e-mail on verkoop@empas.nl or by telephone on +31(0)318-525888.